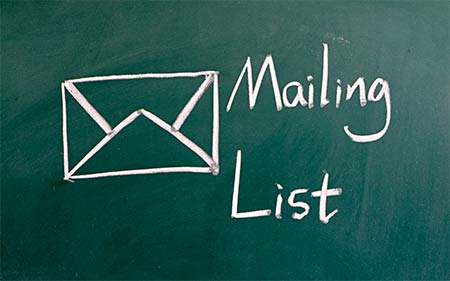 Email remains the most effective way to reach out to potential customers, and to upsell more products to existing ones. Research has shown that more than one third of people check their email throughout the day, often several times an hour. Even among those people who check it less frequently, a majority look at their inboxes at least once a day. That gives you a tremendous opportunity to get your company's brand name in front of consumers eyeballs. That's why having a large email list is so crucial. To help you grow yours, here are five awesome plugins that make the job easier.
1. InstaPage
The first step in growing your email list is having an effective landing page with a high conversion rate. Already in two articles we've talked about: 5 Steps to Make a Great Landing Page and 10 Mistakes Businesses Make With Their Landing Page. What InstaPage does is make it easy to create a high quality landing page with minimal effort. It works best with WordPress, but it can be used on non-Wordpress websites as well. The basic version is free, and if you're impressed with the product there are paid premium versions.
2. WPForms
Designed to be used exclusively with WordPress, WPForms is a simple plugin that allows you to create contact, subscription, and payment forms. The nicest feature of this plugin is its ease of use, and ability to create multiple forms with little work.
3. DreamGrow Scroll Triggered Box
With DreamGrow you'll be able to create simple opt-in boxes that will automatically pop-up in a desired location on your website. Not only can you choose where you want the opt-in form to show up, you can customize the form, and choose how low down a person needs to scroll before they see the popup. Finally, you can set it so that if a person closes the form, it won't show up again for a certain number of days.
4. Thrive Leads
Thrive Leads is a remarkably versatile plugin that gives you lots of different options for creating lead-generating forms. You can choose to display the forms on all the pages of your website, just your posts, using a shortcode, or in the widgets bar. There are a number of different default subscription boxes to choose from, and then you can heavily customize them from there. That guarantees that you'll be able to create opt-in boxes that match your website. At $67 for a single website license it might not be cheap, but in terms of increased lead generation and customization, Thrive Leads justifies the price tag.
5. SeedProd Coming Soon Pages
If you're about to launch a new product or service, but the webpage isn't ready yet, you should consider using SeedProd. It will allow you to create a professional looking coming soon page that you'll also be able to use to capture email addresses. This is an opportunity to get new email addresses that many businesses pass up on, which is unfortunate and can be easily fixed with SeedProd.
By implementing these plugins on your website, you'll be well on your way to increasing your email list and gaining more conversions from customers. If you'd like help setting up these plugins, or to find out about other ways that you can optimize your website, get into contact with Superiocity today. We can give your website the boost that it needs to become a conversion machine that raises your bottom line!
No Responses