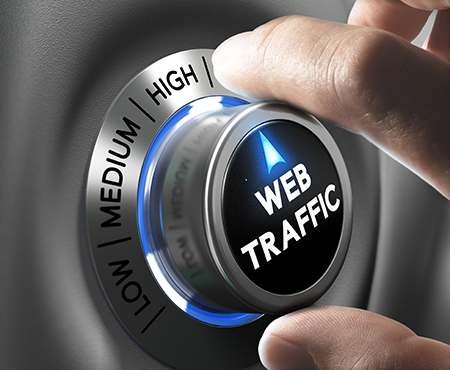 Once you understand the rules of the game, getting visitors to your site is simple. By optimizing your website you'll quickly find that your daily views are increasing and people are regularly coming back to your page. Sounds like a dream come true right? Well, by implementing a few simple ideas, you can make this dream a reality.
1) Content is King
You want people to come to your website even when they're not buying anything. Heck, you want people who will never buy from you to visit your website. Why's that? This person might share an article or tell his or her friend about your business. All of that will generate traffic which can lead to sales down the road.
Having quality content on your website will increase your Google ranking as well. When that happens, you're going to get more search engine traffic and it's not going to cost you a dime.
2) Make it Easy for People to Share Your Articles
If a person is reading an article on your website, they should be able to share it immediately. That means that a social media button should never be more than five seconds away. I wrote about this earlier in an article called What are the Most Important Parts of a Website. In that article I point out just how important social media buttons are. If you don't have them prominently displayed, you're missing out on a big opportunity for free publicity.
3) Promote Yourself Through Established Blogs and Websites
When you don't have many people coming to your website, one of the best ways to generate traffic is to write articles and publish them on established blogs. Usually at the end of the article there will be a link back to your website. People who like the article will follow that link, which means lots of free traffic to your site.
The trick is to make this article amazing! When you send it off to another blog, you want the article to be so good that you're groaning about not being able to publish it on your own website.
4) Get Visitors on Your Email List
When you have a new article or product, you want to share it with potential customers. The easiest way to do that is through email. If you have a person's email address you have a higher chance of getting them back to your site. If you don't, a potential customer may visit your site once and then forget about you. I talk about this in my article: What is the Advantage of Having a Website?
5) Update Your Website Often
The About.com article 29 Ways to Drive Traffic to Your Business Website, points out that you should always be updating your website. Not only does this boost your search engine rating, it also gives you something to share on social media. The best websites are always tweaking their design, and you can do the same.
Generating more traffic to your business website doesn't have to be hard. There are plenty of ways to get more visitors without spending any money on advertising. Remember, content reigns king. Write high quality articles, promote your site through established websites and capture email addresses. Taking these simple steps will drastically increase the number of people who visit your site every month.
Sources