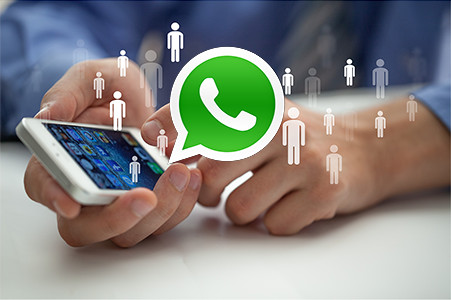 Today, half a billion people use WhatsApp on a regular basis. The app has become a popular way for friends to stay in contact and send each other photos and videos. In fact, WhatsApp has become so widely used that businesses are even beginning to embrace it. They've found that it gives them an easier way to get into contact with their customers, and it can help to build brand allegiance, especially among the younger crowd. To give you an idea about how WhatsApp can improve your business, and drive more traffic to your website, here are three common applications for the app.
Taking orders
If you're running a restaurant, concierge service, or have a business where customers order a product from you, then WhatsApp can be a great way to let people contact you. Today many people prefer to send a message instead of making a phone call, and WhatsApp offers that convenience.
One of the great things about using WhatsApp is that it only requires a minimal expense on your end. The app itself is free to install and use. That means that the only other requirement is a smartphone or tablet. Since many businesses already have one or the other, this is an easy change to make. Once you've decided to accept orders through WhatsApp, don't forget to let your customers know. Be sure to prominently display the WhatsApp icon on your website, along with the number that you can be reached at.
Customer Support
Larger businesses with a dedicated customer support line may consider fielding calls through WhatsApp. Since the service offers free calls, many consumers may prefer it versus making a traditional phone call. This can also save you money. As more customers begin to contact you via WhatsApp, you'll spend less every month on your phone bill. To learn more about using WhatsApp for customer support purposes, check out what ProfitBooks has to say about it.
Internal Team Communication
Given its popularity, a number of coworkers / employees are probably already using WhatsApp. That makes it the perfect tool to keep everyone in contact. The benefit of WhatsApp over email is that since messages get sent to a person's phone, they're more likely to see them and read them instantly. Also, the layout of WhatsApp makes it easier to read and keep track of messages, especially when there are multiple people in the conversation.
Since two-thirds of all Americans now own a smartphone, it's likely most the people who you work with have one too. Even if they don't have WhatsApp yet, it's free to install, and if everyone else at work is using it, they'll want to join in as well.
At Superiocity we believe in helping our customers to find the best solutions to their problems. That means designing high quality, responsive websites that draw in customers and help you to make the sale. It also means sharing new ideas with you, like how businesses are embracing WhatsApp to increase their customer relations. We're a forward thinking web design company, and we want you to succeed! If you're ready to design a website, or want to make changes to an existing one, don't hesitate to contact us today.
Sources