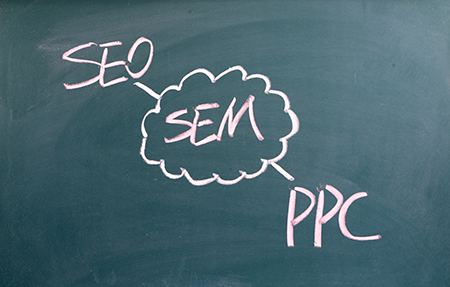 PPC stands for Pay Per Click advertising. That is, you pay for an advertisement on a major search engine like Google or Yahoo, and then you pay them when someone clicks on your advertisement. This form or marketing can be effective for many small business owners, however, it does have its drawbacks. SEO can offer a different solution to the marketing needs of a small business. What are the differences?  
PPC Advertising Results are Immediate
Have you heard about SEO? It stands for Search Engine Optimization and it's one of the most popular forms of digital marketing today. Many organizations, from small companies to mega-corporations use SEO to attract people to their website. However, there is a catch. SEO takes time to work. SEO firms don't insert an advertisement the way you would with traditional advertising. Instead, they plan a campaign that can stretch for many months or even more than a year.
With PPC you don't have to wait that long. You can submit a paid advertisement and get listed by Google immediately. These results appear at the top and on the sides of search results pages, and they show up as soon as you pay for them. No waiting, no SEO campaign. This can be a big benefit if all you care about is getting your advertisement in front of customers as soon as possible.
PPC Advertising Gives You Control
When a company plans a SEO campaign, they have an idea of what they would like to achieve. If you want to promote a product, for example, an advertising firm may design a campaign to get people to click on this product's page. However, SEO can be unpredictable. Sometimes, because of the ranking algorithms that Google uses, potential customers end up clicking on pages that the company cares little about, while ignoring the pages that they really want to drive traffic to.
This can be frustrating, especially if you're a small business and you don't have a large marketing budget. With PPC, you don't have to worry about it. You have complete control over which advertisements are displayed, and you only pay for clicks that direct a customer to a page where you want them to be. This is especially cost effective if you're really only interested in generating traffic to a single page.
You Have to Budget Carefully When You Use PPC Advertising
The largest downside of PPC advertising is that it can quickly erode your budget if you're not careful. For example, you may submit an advertisement to Google, and find that in less than 24 hours your monthly budget has already been spent! If the people who clicked on this advertisement were not who you were looking for, you may have blown a big chunk of change getting hundreds of people to visit a page without making any sales. That's the largest drawback of using PPC advertising.
This is where SEO shines. With SEO, the traffic you receive is organic. That is, it comes from people clicking naturally on Google's search results, which means that you don't pay for any of it. So if you complete a successful SEO campaign and drive traffic to the page you wanted, it's nothing more than an added bonus if you pick up a lot of extra traffic to another area of your website.
Which is Better?
There isn't one right answer to your marketing needs. Most small businesses generally find that success comes from mixing SEO and PPC together in a single Search Engine Marketing (SEM) effort.  PPC advertising is a great choice if you need results now. It's quick and painless, no messing around with building an intricate SEO campaign. Also, PPC is great if you just want to promote a single product page, as opposed to your entire website. If you really want to direct customers to a single specific page, then PPC is the way to go.
On the other hand SEO is perfect if you're trying to build brand awareness or sell a variety of products that all have something in common. For example, if you're selling a large line of swimsuits in the spring, you can plan a SEO campaign around that. Also, SEO is great in the long term. You can plan a campaign and receive traffic from it years down the road, and it won't cost you a dime. The main drawback is that SEO is more generalized, slower, and it's not optimized for promoting a single product.
Building Your Website
No matter how much you spend on advertising though, you'll never sell as many products as you want if you don't have a well designed website. Marketing just brings the customer in, it's the website that makes the sale. So if you're not sure if your website is as good as it could be, or if you need to create a website from the ground up, contact Superiocity. We specialize in building high quality websites for small businesses like yours. We pride ourselves on delivering on time and on budget. If you're ready to combine a great marketing campaign with a great website, contact us today!
Sources
No Responses